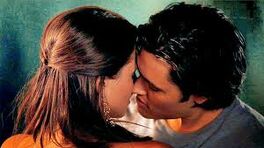 The relationship between Emma Becker and Ethan Whitehorse has been romantic yet complicated due to the fact that Ethan used to date Emma's twin sister Sutton and that he cheated on Sutton with Emma, and did the same thing vice versa.
Season One
When Emma took Sutton's place she'd always see Ethan watching her. Until she confronts him saying she'll tell Luke he's stalking her. At the night of Nisha's party he confronts her in her car and kisses her. He realizes she isn't Sutton. Emma dodges him and leaves to go meet Sutton at the cabin, after Sutton never shows Ethan secretly follows Emma at the cabin and there she confesses who she is. Emma and Ethan have a spark and slowly develop feelings for eachother until at Homecoming Ethan kisses Emma. They begin dating but there love is put to tests with Emma not being honest about Travis, and Ethan being very upset about Sutton sleeping with Thayer. Even though they passed through their problems there's still one major problem in their relationship. Sutton. When she returns she causes Emma and Ethan to break up near the end of the season after Ethan lied about him kissing her and Emma realizing he will always have something for her.
Rebecca advises Sutton to reclaim her life, leading Sutton to challenge Emma to a tennis match – winner gets to live as Sutton Mercer. Ethan is in danger of failing out of school, so Emma offers to tutor him, breaking plans with Thayer in the process. spoilers -the lying game Can you believe The Lying Game season finale is almost here? With so many mysteries to wrap up, we can hardly fathom how all of our questions will be answered in Season 2, Episode 10.   In this sneak peek of the Season 2 finale, Emma (Alexandra Chando) and Laurel (Allie Gonino) have a heart to heart about what will happen when the secret of the twins comes out.
Emma lets out some of her aggression on the tennis court as Laurel watches on. When Laurel gets smacked by a stray tennis ball, she forces her big sis to pause and talk about her feelings.
"I sense this is about Thayer — or Ethan," says Laurel.
"Both," replies Emma. It's about how I'm not being fair to them, or anyone. About Theresa, what happened, and about how when this all comes out, and i'm pretty sure it will really soon, I'm gonna lose everything."
Worst of all, says Emma, will be when Kristin (Helen Slater) finds out the truth.
"Of all the lies that I have told, the worst have been to her, and she's so innocent in all of this," Emma says to Laurel. "It's gonna hit her the hardest."
Do you think the truth will set Emma free, or will it ruin everything ?
Season Two
Ad blocker interference detected!
Wikia is a free-to-use site that makes money from advertising. We have a modified experience for viewers using ad blockers

Wikia is not accessible if you've made further modifications. Remove the custom ad blocker rule(s) and the page will load as expected.