Ryan Harwell is a student at Arroyo High. He comes from a wealthy family, heir to a frozen dinner empire, and has a bit of a 'bad boy' reputation due to the stunts he pulls.
Ryan was shipped off to boarding school about a year ago and is now back after being expelled because of a prank by which involved sneaking a hammerhead shark into the water polo pool.
Season One
Doesn't make an appearance.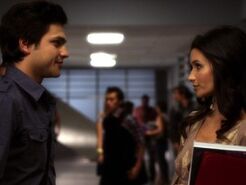 Season Two
Mads reveals Ryan broke up with her for going to the police with their suspicions of Alec killing Derek instead of asking him.
Notes/Trivia
In 9th grade, Sutton Mercer told everyone she saw Ryan's mother buying his jeans at Gap Kids. (Which was, in fact, true.)
He was a big loser at first and very smart.
Ad blocker interference detected!
Wikia is a free-to-use site that makes money from advertising. We have a modified experience for viewers using ad blockers

Wikia is not accessible if you've made further modifications. Remove the custom ad blocker rule(s) and the page will load as expected.